Where Head On Crashes Are Most Likely to Occur in Wichita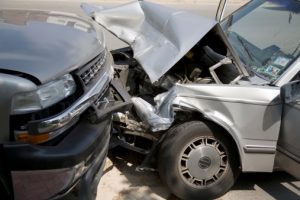 This holiday season, many drivers will be traveling to see friends and family. As motorists hit the roads, it is important to understand how to reduce the risk of one of the most dangerous car accident types: head-on collisions. Knowing where head-on crashes are most likely to occur can help motorists to make sure they do everything they can to reduce the risk of getting hurt or killed in an accident.
Where Head-On Crashes are Most Likely to Occur
Kansas Department of Transportation publishes Traffic Crash Facts, which shed light on dangerous areas and dangerous types of accidents in the state. These statistics show 900 head-on crashes occurred in the state over the course of 2013.
Safety Transportation reports 75 percent of head-on crashes nationwide occur in rural areas. In Kansas, only 32 percent of total car accidents occurred in rural locations, with the remaining 68 percent of accidents happening on urban roads.
There were 7,075 total crashes on country roads in Kansas in 2013. These accidents caused 83 fatalities and 1,603 of the accidents also resulted in motorists sustaining injuries. Head-on crashes are a cause of a disproportionately higher number of fatal accidents in rural areas, with National Highway Traffic Safety Administration reporting head-on crashes account for 13 percent of deadly accidents in rural locations and seven percent of deadly accidents in urban locations.
When head-on accidents happen on rural roads, most- 68 percent- happen in areas where drivers are traveling straight. Twenty-three percent happen when drivers are going around a curve.
Rural locations are not the only location where head-on crashes happen in Kansas.  There were 6,672 crashes on interstate highways in the state of Kansas in 2013. A total of 42 were fatal and 1,542 caused injuries to occur.  There were an additional 8,963 accidents on U.S. highways running through Kansas. Of these accidents, 86 were fatal and 1,773 caused injuries. Local Kansas highways were also the site of 5,320 total collisions, 35 of which were fatal and 1,005 of which caused injuries to occur over the course of 2013.
On freeways and highways, head-on crashes commonly occur because motorists go the wrong direction on the highway, opposite of oncoming traffic. Since drivers travel fast on highways and often have no place to go to get out of the path of an oncoming car, a head-on crash is almost guaranteed when a driver gets onto a highway going the wrong way.
Federal Highway Administration looked at where the majority of wrong-way highway crashes happen nationwide. A total of 110 collisions were studied to assess where the accidents happened. Seventy-one occurred on the freeway, while 31 occurred on an exit ramp. Six happened when drivers were on a road connecting one freeway to another free and two happened on the entrance ramp to the freeway.
Drivers need to know these areas are especially risky for head-on crashes and motorists should make sure they pay careful attention and avoid behaviors which can increase crash risks, like driving drunk or while drowsy or becoming distracted behind the wheel.